Sharon Hazel Township (full band) Sharon Hazel (solo)
"Previously based out of San Diego, Sharon Hazel Township brings a jazz-folk sensibility and sound to its increasingly frequent performances around town. Sometimes solo, sometimes as a band, the Township connects with anyone who digs both the poppy introspection of David Gray, the punk politics of Ani DiFranco and the fluid soul of Bill Withers. Though frontwoman Sharon Hazel is a gifted multi-instrumentalist, she most often straps on an acoustic guitar to challenge listeners with songs charting the ambiguities of gender and love and ultimately wins them over with her earnest voice and always graceful melodies."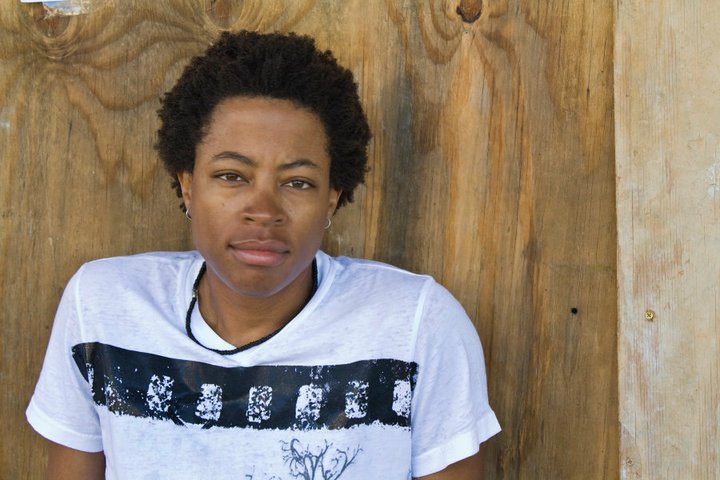 2016 St Louis Blues Society's Regional Winner – Best Soloist
2016 Riverfront Times Music Award Nominee – Best Singer-Songwriter
2008 San Diego Acoustic Music Award (HAT) Nominee – Best Vocalist & Performer of the Year
Studied Jazz Guitar at Mesa College in San Diego ,CA
Born in LA County and raised in NorCal, Sharon Hazel has established some deep roots here in California. After a few years in Chicago, where she attended DePaul University, Sharon made her way down to San Diego, where she's been since 2006. While attending music school at Mesa College, the laid-back (and might I add, ridiculously warm and funny) musician currently fronts Sharon Hazel Township (SHT, for short), playing gigs all over the country. And, because apparently that doesn't keep her busy enough, Sharon also owns and runs Crumb Records, which has produced numerous shows around SD (at venues like Kava Lounge and Beauty Bar) and at San Francisco's El Rio. This month, Crumb Records is also posed to release its first ever record!
1) How would you describe your music style.
Jazz and funk-influenced Folk Rock.
2) Name 3 musicians you've been inspired by and why.
There are so many…. Inspired by Dave Matthews Band because of their musicianship. Beatles for songwriting. Black Crowes for soul and grit.
3) Favorite local music venues?
Locally, I like playing Lestat's and Humphrey's because they always make you sound great. As a fan, I like catchin jazz at Anthology, and you can't beat the Belly Up to watch a big named act in an intimate space.
4) What advice do you have for new/up-and-coming musicians?
Develop and keep a very firm hold on a sense of humor. Trust your gut. Part of the journey is falling so don't be afraid to do so.
5) What 3 items would you put in a time capsule to send to Future Sharon?
Family photos, seeds, recordings of past Sharon speaking to future Sharon
6) What else are you passionate about?
Huge sports fan.
7) Favorite SD spots ?
Love to visit the good folks at Caffe Calabria in North Park. I like to buy music at Lou's Records up in Encinitas. I'm a regular at Hillcrest Organics as well…got a free turkey!
8) Favorite local bands or artists you think we should check out?
I'm heading on a West Coast tour in January with Jaylen Green. As you know, I'm a big fan of the acid jazz band Pocket as well.
9) What's next for you?
2011 is about hittin the road and promoting the album while attending music school. Also, playing guitar with some other local bands.
Sharon Hazel Township's debut album, Socrates in Urgency, will be released nationally on Monday, December 13th! The album release party will be at the legendary Viper Room in LA.
Check out www.SharonHazel.com for more album release information & upcoming shows!
The blues singer-songwriter says she "underestimated St. Louis. The music scene here is three times better than San Diego's."
Despite a recent move from Southern California to St. Louis, Sharon Hazel's childhood obsession with skateboarding hasn't receded at all. She might not be able to see Tony Hawk skating in drained swimming pools around her old neighborhood anymore, but she still rocks Vans and skates the four blocks from her home near Cherokee to work. Skating, she says, is a lifestyle she's known "always, since I was a little dude."
The other habit that she picked up as a kid was a love of the guitar. Around age 11, she started taking classes from local metalheads, "guys with really big hair who could rip." After cutting her teeth on Metallica and Mötley Crüe, she delved into the intersection of rock and blues, studying Jimi Hendrix and Stevie Ray Vaughan. She then headed back to roots music and blues. All the while, she was building her own fusion-based playing style. After attending college in Chicago, she returned to San Diego, founding her own group, Sharon Hazel Township, and crafting original songs.
She uprooted the project in May 2015, when she moved here with her fiancée, Samantha Lembeck, a St. Louis–area native. New players were found; new gigs booked. Hazel says she "underestimated St. Louis. The music scene here is three times better than San Diego's. The average musician here is very humble, very open. Musicians here are about their history and culture, and they're proud of it. There's a vast array of genres."
And St. Louis, it seems, has been impressed with Hazel. Recently she won the International Blues Challenge's Road to Memphis event as a solo artist, meaning that she'll be appearing in Memphis as St. Louis' representative in a major blues showcase. (Members of the St. Louis Blues Society, who sponsored the local leg of the Memphis competition, have been a steady source of support and inspiration for her.)
Hazel doesn't consider herself purely a blues player, however, and admits tailoring her sound with "a lot more guitar work" to place herself in a blues environment. Whether playing solo or with Sharon Hazel Township, she aims for a "fusion jam band" feel, though not necessarily a Grateful Dead/Phish vibe. Instead, she brings reggae, folk—a little bit of everything, actually—into her set.
"I'm at the point of going along with this to the next level, which means I'm at a whole other level of learning," she says. "I want to focus on getting to the festival level—opening for national acts, getting on some tours, and all that." That calls for a lot of extra work, heaped atop 70-hour workweeks at two jobs. But, says Hazel, "It's the problem I've been wanting to have."
---
Local Acts that Hazel Admires
Marquise Knox: The St. Louis blues prodigy has huge potential for a national impact on the blues scene.
Tok: Another band born of a teenage project, Tok plays powerful riff-heavy rock—a mix of punch and songwriting that Hazel appreciates.
Aaron Kamm & The One Drops: The group neatly reflects Sharon Hazel Township's own blend of blues, reggae, and improvisational flourishes.
(Crumb Records - San Diego, CA):
2017 Single – "The Rest", full album to come
2013 Album –  14 C Bags
2010 Album  – Socrates in Urgency
2008 EP – The Bungalow Sessions