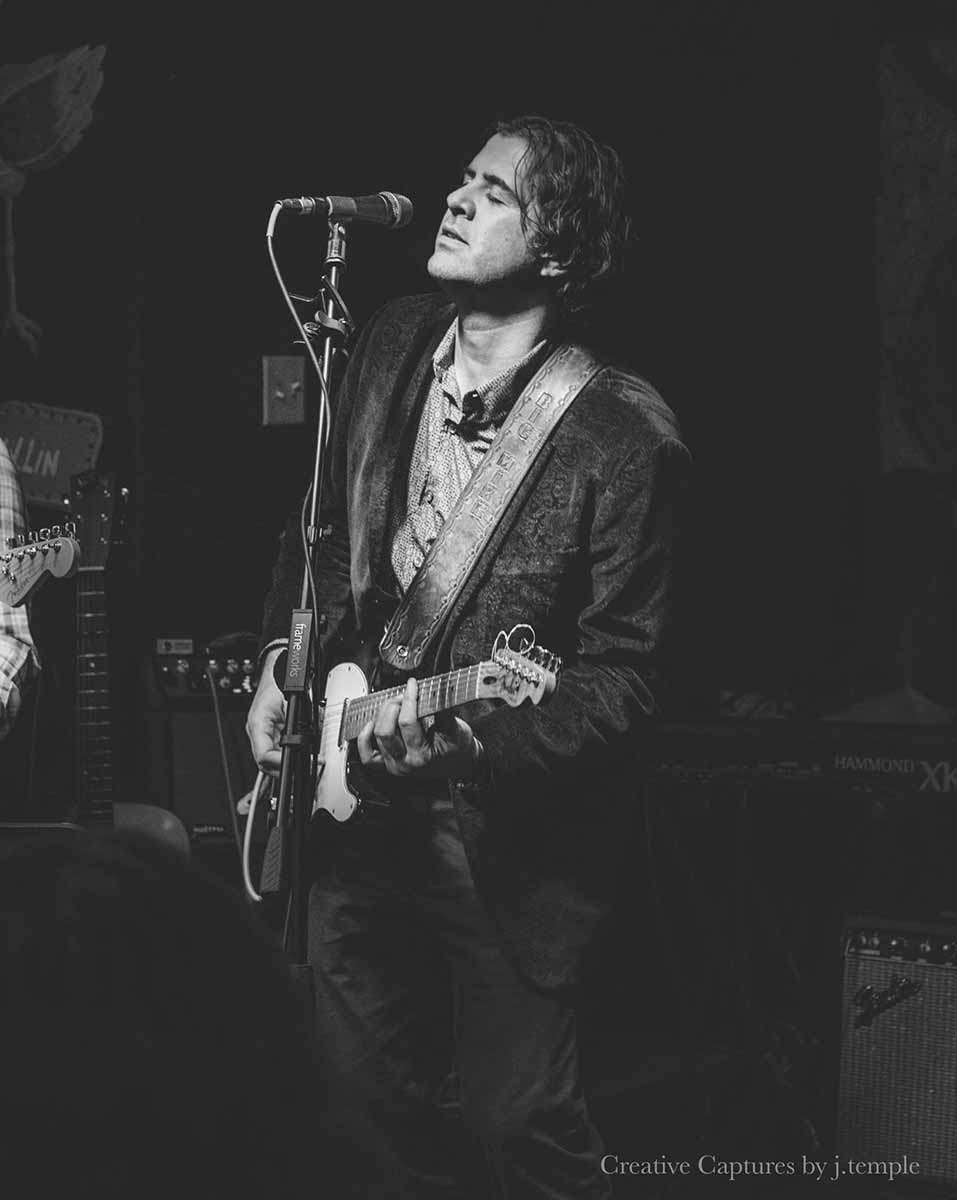 The late great Oliver Sain once told me, "there's two types of music: music I like and music I don't like". I play music I love with amazing musicians who love playing together and radiate a message of Unity with a little Harmony.  We specialize in Mississippi River Music: St. Louis Blues, Memphis Soul, New Orleans Funk & everything in between.
"Big Mike Aguirre from Belleville, IL appeared solo last night at BB's Jazz Blues & Soups. He instantly captured the audience with a commanding presence, a bagful of original tunes with up-front lyrics, and some well selected blues covers. He is a star. Hope to see him and his Blu City All Stars on the East Coast in the future. St. Louis, MO 7-21-2017"
"Big Mike as a guitarist is a slasher, a groover, a musician who fully understands the soul of the blues. But, talented guitarists abound in St. Louis - and make no mistake, Big Mike can hold his own and then some. The real secret as to why Big Mike Aguirre stands tall among the crowd of other talented blues artists of his generation is found in his voice and on-stage charisma. Big Mike sings from his soul in a warm and expressive voice, one that makes women swoon and makes men jealous (and makes them hold their women just a little bit closer). The Blu-City All-Stars - Andy Coco (bass guitar and vocals), Nathan Hershey (organ, clavinet, Rhodes, keys and vocals) and Kevin Bowers (drums and percussion) are to a man considered among the top-rank of musician in St. Louis. The gentlemen are not hired guns; along with Big Mike Aguirre they ARE the Blu-City All-Stars, easily capable of making you feel the burn of Guitar Slim's aching, heart-wrenching blues to Earl King's funky Big Easy R&B - and all the blue shades between (and beyond!) They'll strip down hoary cover songs and re-imagine then into anthems of earthy, celebratory, salaciously over-the-top rites of life, and they'll fool you with self-penned tunes that you swear you've heard and loved forever. And here I haven't even touched on the fantastic 3-part harmonies the band routinely yet expertly works into most of their catalog. The fellas are a treasure among the St. Louis blues and roots scene."
St. Louis, Missouri…East Side…music of the night by adults, for adults. Hips swaying, glances stolen, whispers heard… THAT'S the blues world that Big Mike Aguirre (let's call him a-Gear'-ee) came of age in, surrounded by the St. Louis blues masters who were generations his senior. It all occurred in the low-lit, earthy and subtly dangerous clubs of the East and North sides of St. Louis.
Week in and week out, in small, smoky, noisy, dimly lit clubs in and around East St. Louis, and Wellston, Jennings and Pine Lawn on the north side, where two or three swaying sweaty bodies invariably and impossibly fit between the "band on the stand" and the drinks in hand, he soaked up and savored the mystical relationship between musicians and members of the audience that thrives when no separation, physical or otherwise, exists between the two.
In time, Mike caught the eye and ears of booking managers and owners of premier St. Louis blues-driven venues, including BB's Jazz Blues & Soups, Beale on Broadway & the Broadway Oyster Bar, which provided the opportunity to frequently share the stage and test his ears with preeminent St. Louis and national artists.
Soon, thanks to religiously attending jam sessions and the generosity of other musicians who let him sit in on sets week in and week out, Mike found himself well acquainted with an entire city full of musicians and performers not only dedicated to the living blues, soul, jazz, R&B tradition, but to each other.  Not content to form a single band to compete with so many other bands in town, Mike's ambition was to include as many St. Louis' musicians in his musical journey as possible.  
Big Mike Aguirre paid his respects and his dues, and now finds himself sporting the shoes of those masters, and deservedly so as he has absorbed those early lessons and channeled them through his own soul becoming one of the premier blues and soul artists working in St. Louis today. 
The sound of St. Louis Blues, ultimately, is that of space. Spaces between notes, spaces consciously left open for the other other musicians on stage; the true essence of the St. Louis scene is that of camaraderie and collaboration.  On any given night, dozens of musicians live, work and play together, and that's exactly what Mike did, putting the time in onstage to develop on-stage chemistry with as many musicians in possible. 
In 2010, "Big Mike" founded the Blu City All Stars, a project through which he, as a bandleader, could assemble and feature an incredible array of talented St. Louis musicians on stage who never previously shared the same stage. The CD/DVD "Live at BB's Jazz Blues & Soups," filmed and recorded in 2010, captures both the phenomenal musicianship and illuminating song selection showcased by the band. 
In 2014, Big Mike began a Sunday residency at the Beale on Broadway, in the heart of St. Louis' blues district. This lineup features lush 3 part-harmonies and a repertoire that comes full circle; back to the  soul-drenched rhythm and blues that dominated the juke boxes in Big Mike's younger years. Acclaimed as a powerhouse locally-based vocalist and bandleader, Big Mike has lately focused on exporting the spirit of St. Louis soul and blues far and wide. Since November of 2016, he has completed four successful tours of Caribbean Island, including the inaugural Rendezvous Blues and Folk Festival at the magical Dune Preserve on Anguilla. 
Big Mike Aguirre has represented St. Louis at numerous local, regional and international music festivals, including the New Orleans Jazz & Heritage Festival and the Bevridingdag (Liberation Day) Festival in the Netherlands. From the concrete jungle of East St. Louis to the beaches of Anguilla, his passion for music and the shared human condition continues to unlock new experiences and relationships around the world. And some folks don't believe in magic…